Hyundai H1.
Aki
Rent a Car
the best price on
car rentals
.
The Hyundai H1 is very stable on the road and the driving position is very pleasant due to the height above the ground, despite being a large vehicle with a capacity of up to 12 passengers, it is very agile in the city and the smoothness of the handling is a car. It is powered by a 2.5 diesel engine with 167 HP of power.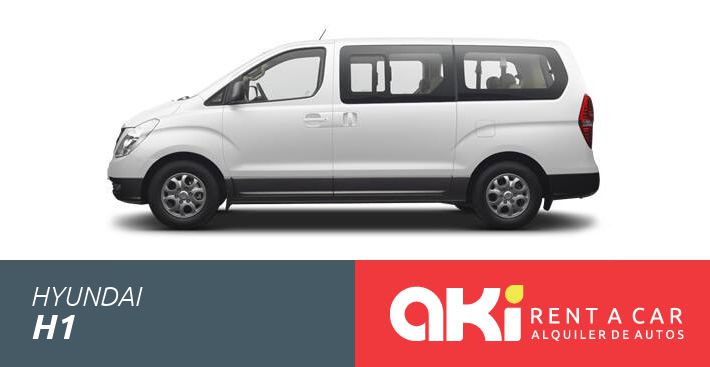 Frequently asked questions about renting a
Hyundai H1
.
How many people can travel in a Hyundai H1?
The Hyundai H1 has 12 seats and all with seat belts so that the 12 passengers can travel comfortably.
Is it safe to travel in a Hyundai H1?
Yes. the Hyundai H1 has a seat belt for all 12 and has ABS brakes with EBD and Airbags.
What are the requirements to rent a Hyundai H1?
To rent a Hyundai H1 or any other vehicle in our car rental fleet, the requirements are the same. Be over 21 years old, have a valid drivers license from the country of origin and a credit card to cover the vehicle insurance excess.
What is the insurance excess for a Hyundai H1?
The franchise for a Hyundai H1 is AR$ 150.000 with a credit card. This means that in the event that the vehicle suffers damage, you will be liable up to that amount. If the value of the repair exceeds the amount of the excess, the insurance company covers the rest.
What equipment and engine does a Hyundai H1 have?
The Hyundai H1 has a engine 2.5 diesel with manual transmission, direction assisted, ABS brakes with EBD and airbags. It also has air conditioned stereo with radio AM FM USB and bluetooth connection for hands-free calls and that you can play music from your smartphone.
How much does it cost to rent a Hyundai H1?
To give you an exact quote, we need you to provide us with the date of the rental period you need. You can request a quote for a Hyundai H1 from our Aki Rent a Car website, call us at +541166445656 or send us a +5491166445656.
The rental Hyundai H1 have a mileage limit?
No. When you request a quote for a Hyundai H1 or any other vehicle in our fleet, we will send you the budget with the option of limited mileage and free mileage so that you can choose the one that suits you best.
Can I drive a rental Hyundai H1 outside of Argentina?
All our car rental vehicles are authorized to circulate throughout the Argentine territory, it is not possible to drive outside of Argentina with a rental Hyundai H1.